Inaugural Recipient – 2010
2015 Update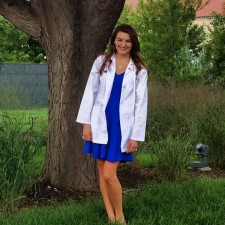 It has been five years since I won the scholarship and a lot has happened since then! First of all, I graduated Magna Cum Laude from Saint Louis University this past summer in 2014 with a Bachelor of Science in Neuroscience. I had a great four years at SLU! During my senior year of undergrad, I spent the majority of my time taking standardized tests and applying to medical schools. I was very lucky and excited to have been accepted to multiple schools and chose to attend Creighton University School of Medicine in Omaha, Nebraska which I started this past Fall. I had a successful first year at Creighton where I learned a lot about medicine and myself along the way. However, I am still debating what sort of specialty I want to pursue–I've been back and forth between OB/GYN and radiology for some time now.
This summer, I moved back home to pursue a position at Washington University School of Medicine in St. Louis where I am working in the Department of Endocrinology studying the effects of Vitamin D on Type 2 diabetic patients. I love being able to get out of the classroom and into the patient population, even if its only for a summer. I will be presenting the findings of my summer research at the National Institute of Diabetes and Digestive and Kidney Diseases symposium in Nashville, TN before returning to Creighton in the Fall for my second year of medical school. I have been so incredibly blessed to have received such amazing experiences throughout my education and hope the best for all of the fellow recipients of this scholarship!
2013 Update

I am currently a little over halfway through my junior year at Saint Louis University where I am pursuing my dreams at becoming a physician. I am contracting a major in Neuroscience (a double major in biology and psychology) with a focus on the Pre-Medical track. Along with this, I am also a member a member of the Honors Program, Alpha Epsilon Delta (pre-health club), and have spent four semesters on the Dean's List. Currently, I hold two jobs along with my studies. I am a four-year member of a research team with my mentor Dr. Jon Fisher at SLU and am also working as a grader and proctor for Organic Chemistry in the Department of Chemistry. I have graciously accepted a position next year as the head grader for the department!
Recently, I have found myself lucky enough to have two of my research publications submitted with one being accepted so far! Having the opportunity to have my name on a research paper for all the work I have done has been an absolute blessing and has made me extremely proud of my work. This past summer, I was one of 20 students out of thousands accepted in the ASPIRE program at Washington University in St. Louis. I was able to work one-on-one researching in the field of obstetrics and gynecology which has ultimately led me to the decision to pursue a career in the field!
As of now, I am preparing to take my medical admissions exam (MCAT) at the end of April (a test I have been studying for since October). I am extremely nervous for the exam and the processes I must go through but am hoping that all of my hard work, studying, and patience will pay off!
2012 Update

I am currently a sophomore at Saint Louis University.  I had originally come to the school seeking a major in biochemistry but since my second semester of freshman year, I have been contracting a neuroscience major (a double major of biology and psychology).  I have also decided to apply to medical school in the hopes of becoming an Ob/Gyn (in the very distant future of course).
As of right now my life basically revolves around school, mainly organic chemistry and molecular cell biology.  I find myself in a constant state of studying.  When I am not studying though, I enjoy tutoring at a local St. Louis elementary school, cooking with my boyfriend Dan, and just enjoying the sights and sounds of St. Louis!
As a side note, I would like to give a shout out to the Billikens who made it to the Round of 32 in this year's NCAA March Madness Tournament! I'd recommend anyone and everyone to keep an eye out for them next year!