Recipient – 2011
2017 Update
As of 2017, I am in my last year of law school! I cannot believe how time flies. Law school has been good to me. I completed a two-day federal jury trial this past school year. I lost the case but it was an incredible learning experience, and I was able to hold the jury out for two hours. I was also one of seven students selected for an Excellence in Trial Advocacy Award. Once I finish school, I will focus on studying for the bar and starting my legal career. As always, go Mascoutah!
2015 Update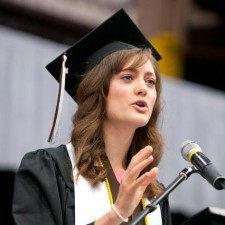 I graduated from Quincy University in May of 2015 where I gave the commencement speech to my fellow graduates. During my time at Quincy University I had the privilege of serving as Mission Trip Coordinator which brought me to service locations such as New Orleans, Louisiana and Moore, Oklahoma along with eight other locations. I was a member of Haiti Connection and went on an awe inspiring ten day service trip to Haiti. I was a captain and five -time Outstanding Attorney Award winner for our Mock Trial Team. I received the Illinois Lincoln Laureate Award from Governor Pat Quinn which is presented to one senior college student from each Illinois University.
I am moving onto law school at the University of Illinois in the Fall of 2015 to work towards my educational goal of practicing law.
2013 Update

I am currently a sophomore at Quincy University where I continue my aspirations of attending law school by studying Political Science, Pre-Law. I am enrolled in the honors program and have been on the Dean's List every semester here. I have taken on many leadership roles in my second year of college. I serve as the Vice President of Student Senate. I also devote a large portion of my time to Quincy University's Mock Trial Team. In addition to being team captain, I was awarded an Outstanding Attorney award through competitions this year!
Lastly, I hold a position within Residence Life as a Resident Assistant that makes me responsible for a floor full of thirty freshmen girls. It has been quite the learning experience! I am growing in patience, understanding, and prudence by virtue of interaction with my residents. My commitment to academics and extracurricular activities keeps me busy at school but I always look forward to my visits home. Can't beat good ole hometown Mascoutah, IL!