Recipient – 2011
2017 Update
I'm graduating with my PharmD degree in 1 month! Crazy to think I started this journey 6 years ago—how time flies! I will be finishing my clinical rotations at Barnes-Jewish Hospital at the end of April and graduating mid-May with Summa Cum Laude honors. After graduation I will be moving to Lexington to pursue 2 years residency training at the University of Kentucky Hospital! I couldn't be more excited about this opportunity. After residency training, my goal is to become a clinical pharmacy specialist in oncology hoping to serve as a clinician at a large, academic medical center while also serving as a faculty member at a college of pharmacy. So thankful to have gotten to where I am today because of my friends, mentors, faith, and most importantly family.

2015 Update
Unlike most of my classmates, I did not get to graduate this year. Unfortunately, I still have 2 more years before I earn my Pharm.D degree. This year seemed to fly by, but at least I had a lot of great experiences along the way! Throughout the 2014-2015 school year I got to be part of some really neat research projects from working on hydrogel formulations for ovarian cancer, investigating the transmission of MRSA in the community setting, as well as helping on a study of a novel asthma treatment called bronchial thermoplasty. I also had the privilege of being inducted into both of the pharmacy honor societies: Rho Chi and Phi Lambda Sigma. However, the most exciting part of my year was when I went on a 10 day long medical mission trip with a group of health care professionals from Washington University School of Medicine in Catacamas, Honduras. On the trip I learned how to run my own pharmacy, counsel patients on their medications in Spanish, and help perform multiple health screenings. After graduating in 2017, I would like to pursue a pharmacy residency at Stanford or Johns Hopkins.
2014 Update
I am officially 50% Pharmacist! I have three years down and three years to go at St. Louis College of Pharmacy. The past year I have been very busy with academics, athletics, and other activities. I have remained on the Dean's List every semester I've been at STLCOP (higher than 3.5 GPA); I am also currently in the top 5% of my class and continue to tutor and TA various classes and labs. I also had another great year of running with cross country and even managed to win one of our big races. Lastly, in the past year I have co-authored 3 separate research articles that have been published in Critical Care Medicine. This summer I spent the first 3 weeks on my community care rotation at Pyramid Pharmacy in Jefferson City, MO; now, I am spending the rest of my break as a summer student/employee at Washington University School of Medicine in the TL1 program. This program allows me to head my own research under the supervision of a senior mentor while also providing two statistics and analysis of clinical data courses. Overall, I am very happy with where I am right now, and currently considering being an infectious disease pathway for my pharmacy career!
2013 Update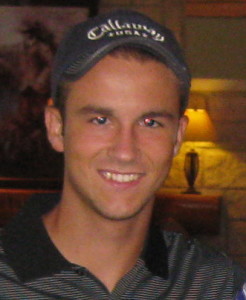 As of now, I am in my second semester of my second year at St. Louis College of Pharmacy. Although the curriculum is much more rigorous that I had ever imagined it to be, I do not regret my decision of becoming a pharmacist at all. Since graduating high school, I have had the privilege of working under some world-renowned physicians and pharmacists at Barnes-Jewish Hospital. Last summer I worked closely with a clinical pharmacist and cardio-pulmonologist in researching the effects of treatment on a disease known as "septic shock." My efforts were rewarded when the research paper we submitted was accepted for publication in "Critical Care Medicine"—a distinguished journal of medicine. Tossing Organic Chemistry, Physiology, Microbiology, and OTC (non-prescription drugs) around this semester has definitely been a challenge that has tested my boundaries both mentally and physically.
My name has been on the Dean's List every semester so far, and I hope to stay on it throughout my time at STLCOP. Along with academics, I have also continued my running career from where I left off in high school. I was named "Most Valuable Runner" for cross country in both 2012 and 2013, a very euphoric honor. One of my more prominent accomplishes both first and second year, however, was qualifying for the NAIA national cross country meet, where I was able to compete against the country's best runners in Vancouver, Washington. Overall, I have had a very successful (and maybe a little stressful) two years of pharmacy school, and I cannot wait for the remaining four! I'm also excited to receive my white coat this August as recognition of entering the professional pharmacy program!